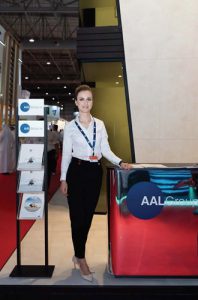 For the 7th consecutive time AAL successfully participated in one of the largest aviation events in the Middle East which was held in DWC Airport on 17-21 November 2019 presenting its advanced capabilities in such areas of rotary-wing services as MRO, Modifications, Upgrades, as well as Training and Operations.
During the Air Show AAL engaged in productive negotiations with the number of influential players from Global and Middle East aviation markets on aviation sector opportunities and challenges while state-of-the-art AAL exhibition stand attracted interest of hundreds of visitors.
New strategic business relations were established through series of comprehensive campaigns lead by AAL professionals within the Air Show framework, while existing cooperation's and partnerships were enriched with ambitious goals, inspiring perspectives and elaborate pursuits. Meanwhile, on the sidelines of the show AAL's existing clients once again expressed their satisfaction with AAL's services emphasizing the swiftness, effectiveness and quality of products and services rendered under "AAL" brand name.